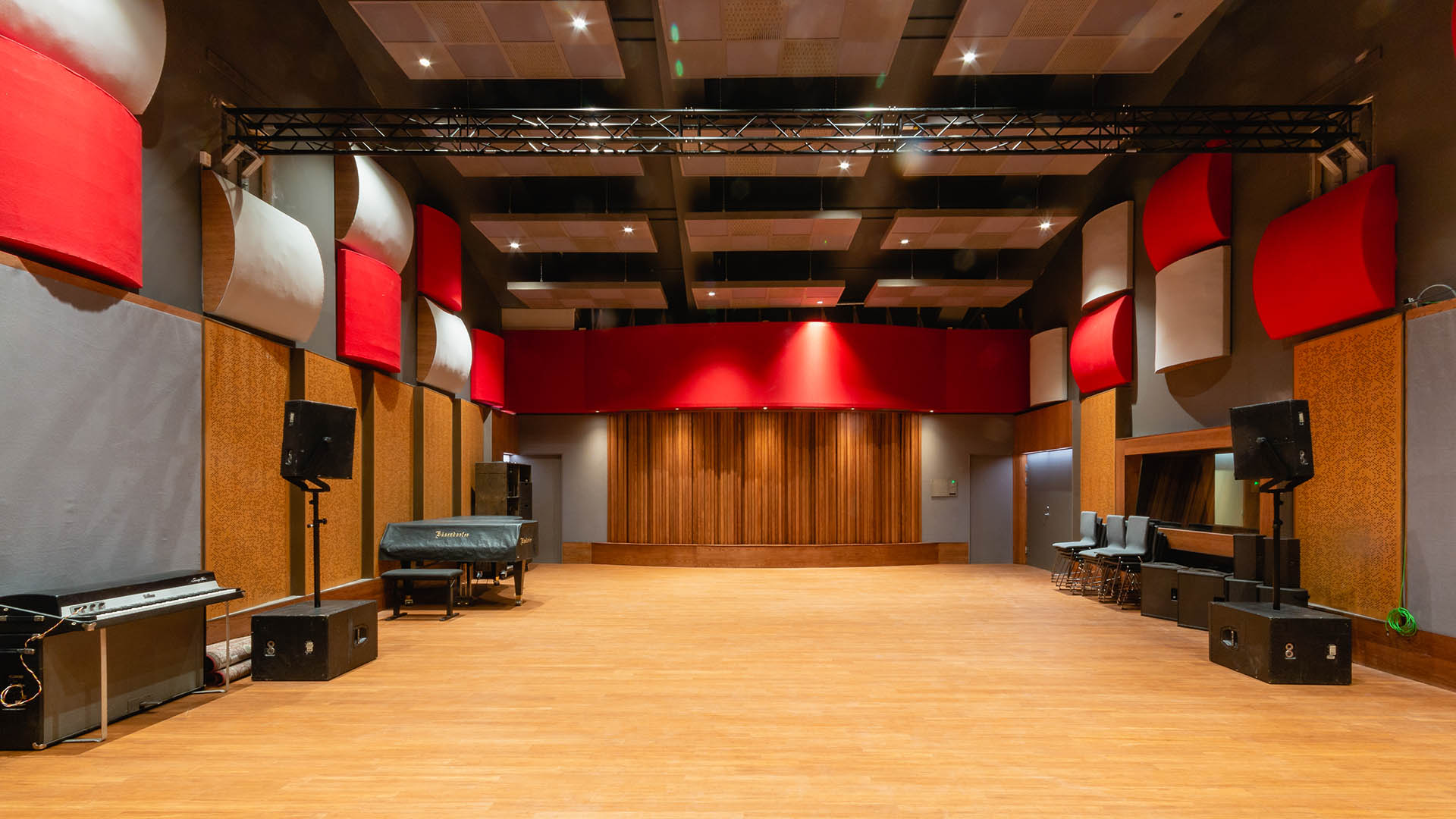 Oslo Preprod is the only place you need to visit before going on tour. With state of the art acoustic treatment, great backline and access to all thinkable technical equipment you have everything you need within one facility. Here everything can be put into life, from string arrangements and tracks setup to deco lighting and stage props. We even run an in-house repair shop, so when something needs fixing before going on tour, you can get it repaired right away!
Access to the facility is on ground level through large access doors with parking right outside. We have a vast amount of available backline and when you need another piece of technical equipment than what's listed, we will be sure to get it for you.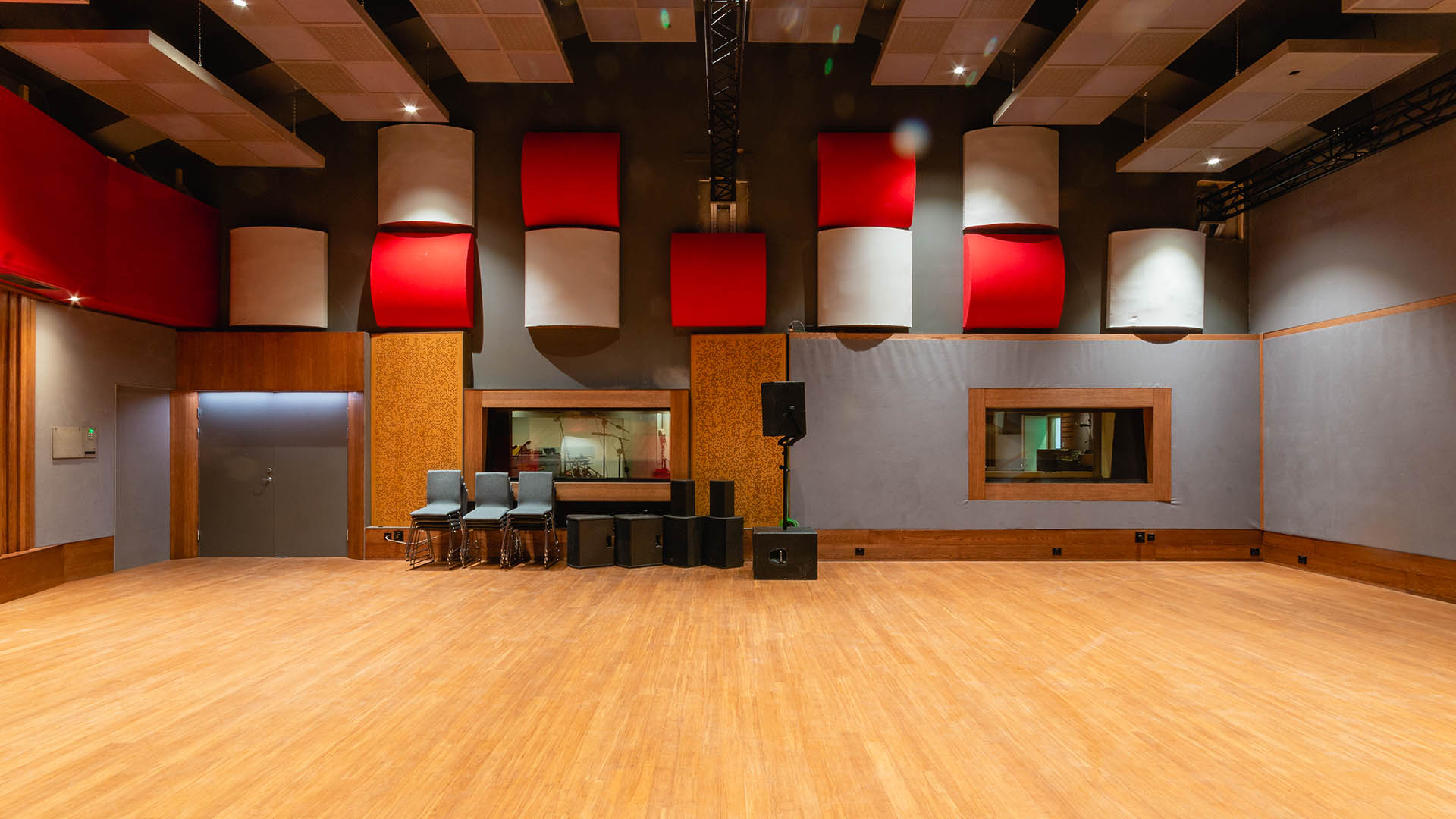 Studio A. Preproduction hall
Our preproduction hall is 130 m2 with 6.5 meters ceiling and custom acoustic treatment. With a large diffuser in FOH (Front Of House) position, you will be sure to get good, translatable mixes for when you go on tour. For larger productions you can use the B-room for FOH, and get a stage area of 9.5 x 13.5 meters.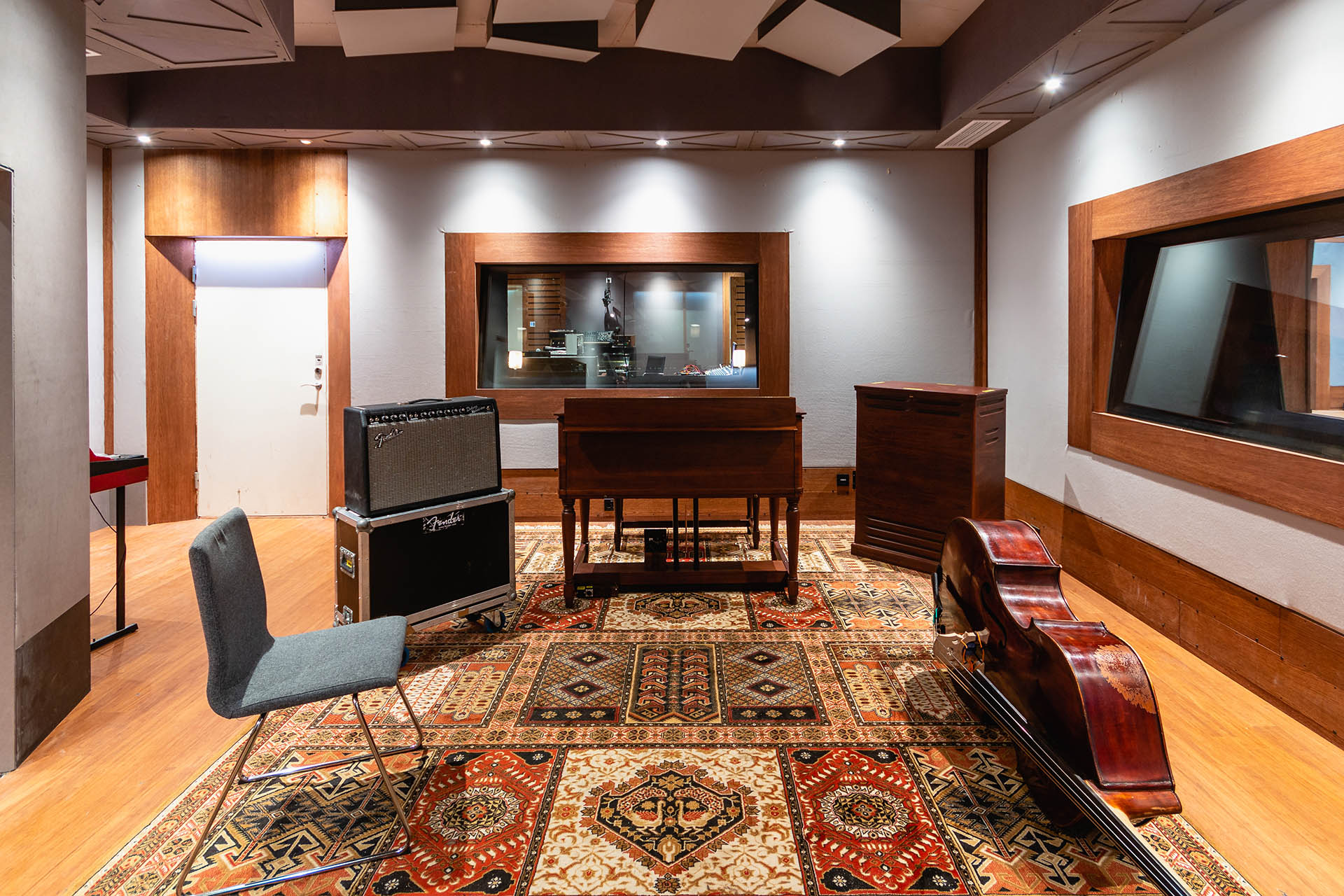 Studio B / FOH room
Our adjacent B-room of approximately 40m2 can be used for smaller rehearsals, or used for FOH when having larger stage setups in Studio A. The room is also acoustically well treated and we have 90 dB of isolation between room A and B, so you can also do separate work here during a production. There is a direct Cat-5e connection to studio A for digital consoles.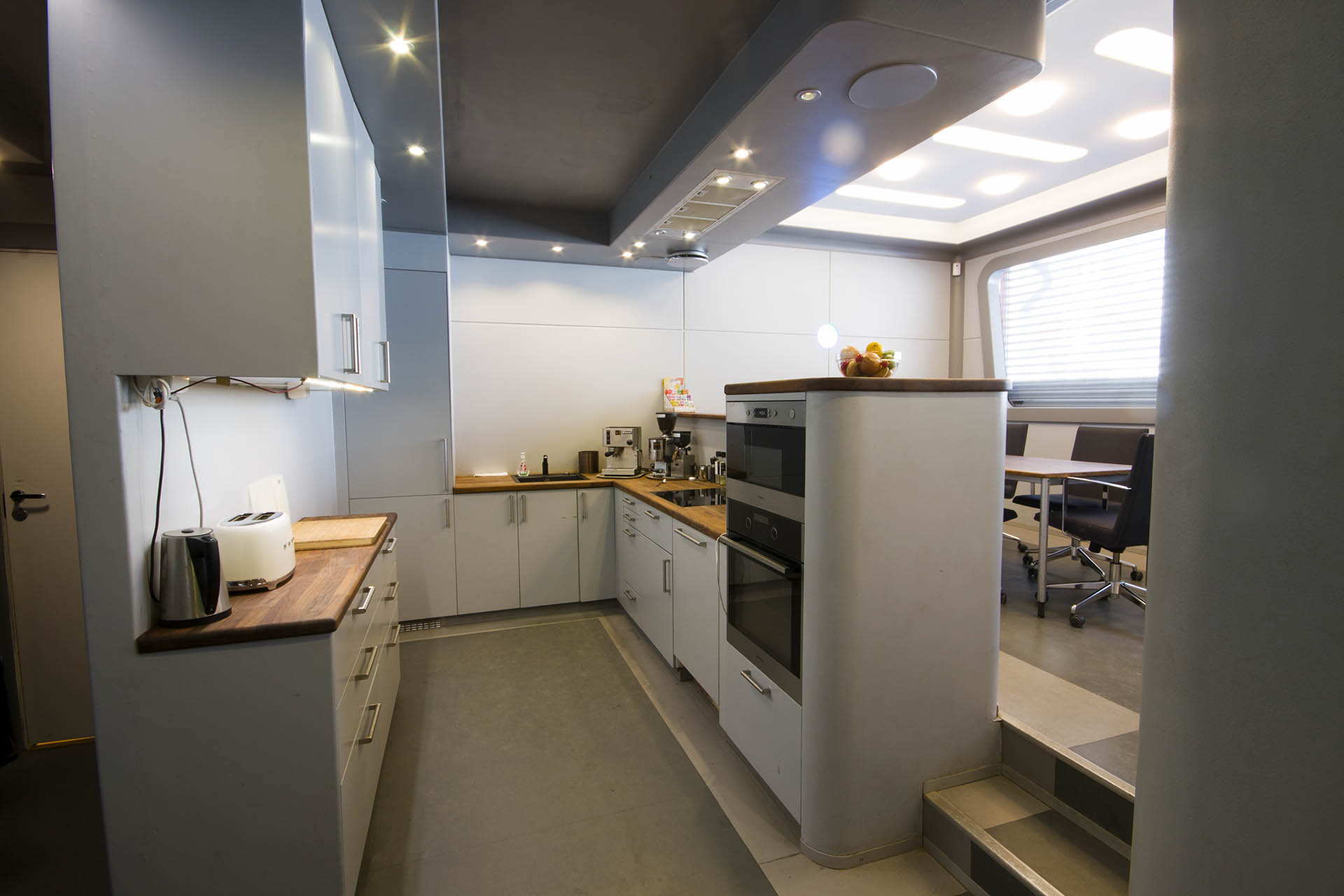 Kitchen and Lounge
Entering the space station, you will find our large kitchen and lounge area, fully prepared for any kind of cooking.
The kitchen has large windows with daylight, a spacious table and a small couch. We always supply our customers with the best in coffee through our state of the art Rancilio espresso machine.
Of course there is free Wi-Fi available for all our guests and customers.
Technical
Studio A
Power:
Backline power: 3x16A
Amp racks: 2x16A
Lighting: 3x16A (at truss level)
Extra: 1x32A/230V and 1x16A/400V
PA:
D&B Q7 with Qsub (one per side) amped by two D12
Monitors:
L'acoustics 108MTA (4) and 115MTA (2).
In-ear available on request.
Lighting:
We have two truss rigs located in center and back of the stage. We also have a row of front lights dispersed from over the diffuser at the end of the room. Any type of light rig is available on request. Ceiling light is directly DMX-controllable per lamp. We have a lift to access rigging points.
Mix:
Midas M32 with Behringer S32. Any mixer can be delivered. Through our partners in Løkka Lyd and Oslo Audio we have A&H Dlive and Midas Pro2 consoles available just meters away.
Microphones:
We supply microphones according to rider. We have most standard mics in house. Check the microphone list for a complete list of what we offer.
Backline:
Supplied with rental we have a standard setup with drumkit, bass amp and two guitar amps. We have a vast amount of available backline for an extra charge. All our backline is kept in perfect condition at all times. Check the
Backline list
for a complete list of what we offer.
Connections:
2 x cat5e to Studio B
DMX to room lighting.
---
Studio B
Power:
Backline power: 2x16A
Lighting:
Ceiling light is directly DMX-controllable per lamp.
Connections:
2x Cat 5e to Studio A
Floor plan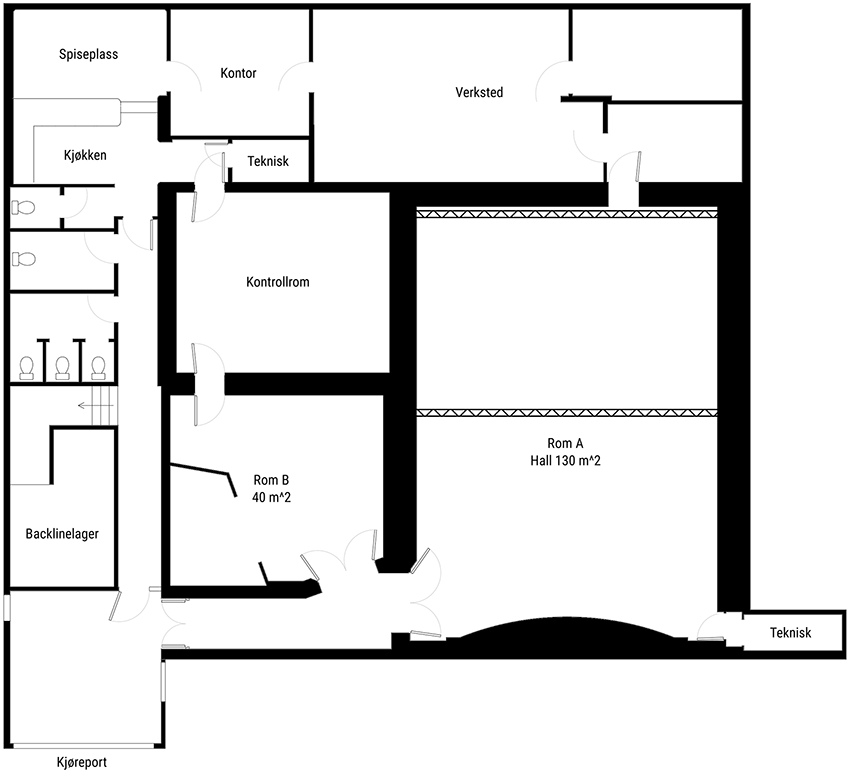 Getting there
We have access to our facilities both for Semi-trailers and tour busses, but our facilities are also easily accessed by public transportation. You can catch subway 4 or 5 to Ammerud or Kalbakken, bus 66 to Sagstuveien or bus 31 to Ammerud or Flaen. Airport express bus also stops at Ammerud. We can offer pickup for customers demanding the service.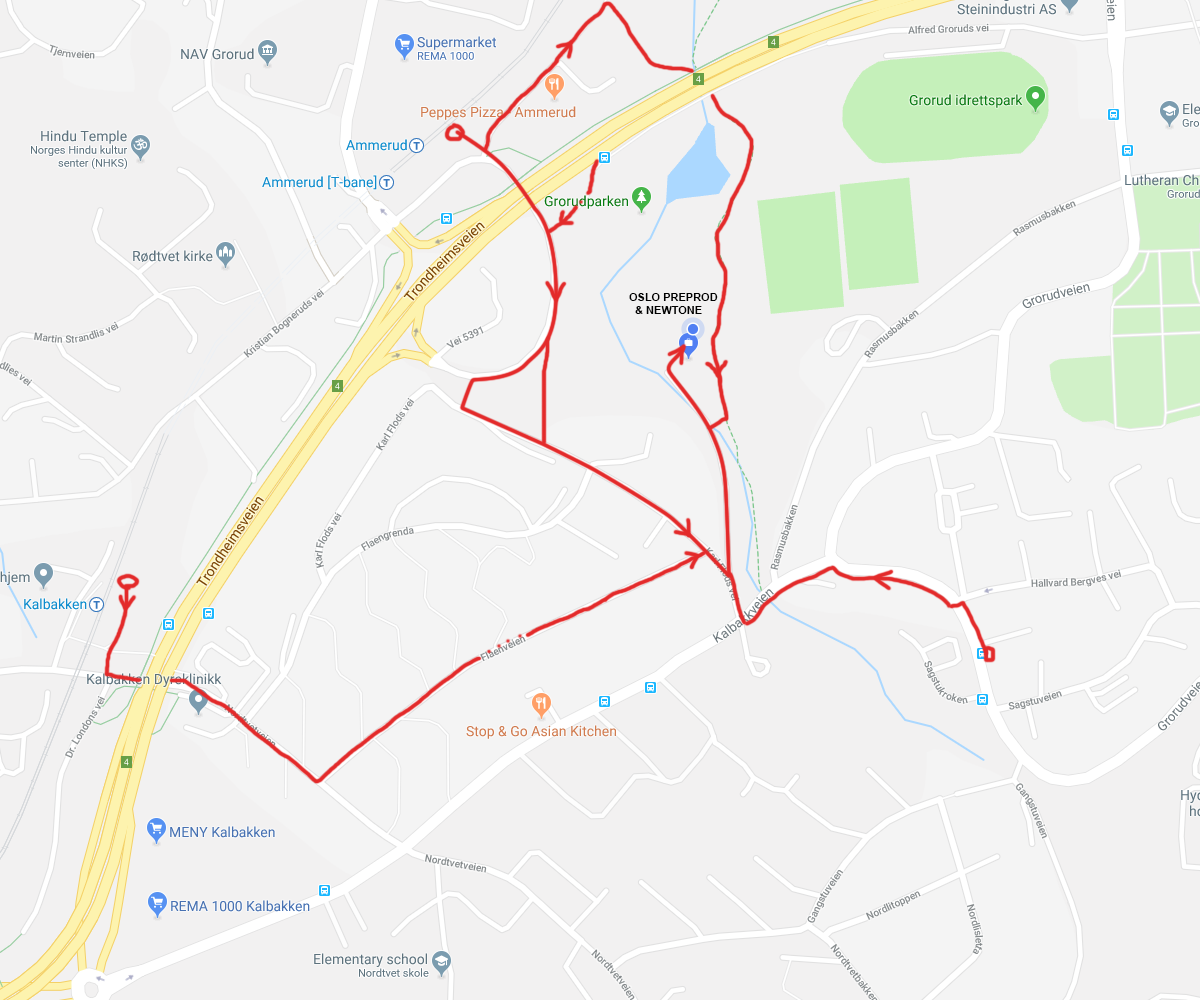 Services and pricing
We rent out rooms on a per day basis, with access 24/7. We don't accept get-in before 08:00 on the first day. We offer Studio A for evening rehearsal at cheaper rate, but it only opens for booking a week in advance.
Studio A with standard backline : 5000 NOK
Studio A from 18:00 with standard backline: 3000 NOK (short notice only)
Studio B (no backline): 3000 NOK
Studio A+B: 7000 NOK
Control Room (only in conjunction with other rooms): 2500 NOK+VAT
PA-system for Studio A: 1000 NOK+VAT
Sound Tech per hour: 500NOK
Backline pricing per request. Check out our extensive list here.
We can also offer these services:
Repair shop/technician: 790 NOK+VAT per hour. Our experienced techinician can repair virtually any gear you need to go on tour.
Repair shop desk with necessary tools for soldering on your own: 1500 NOK+VAT per day (only with in conjunction with room rental)
Wood workshop: 2000 NOK+VAT per day
CNC-Machining: 1200 NOK+VAT per hour
Self operated CNC-machining: 400 NOK+VAT
We can also offer access to office space, lacquering workshop etc. Pricing per request.
Backline list
Keyboards & Electronic instruments
Bösendorfer 225, 92 key grand piano
Dave Smith Instruments Evolver
Dave Smith Instruments Prophet-6
Eminent Solina MkII
Farfisa Combo Compact
Fender Rhodes Mark I 1973, suitcase
Fender Rhodes Mark I 1978, suitcase
Fender Rhodes Mark I 1978 DynoMyPiano, stage
Fender Rhodes Mark II 1981, stage
Hammond A100 1961, Leslie 142
Hammond B3 1968, Leslie 122
Hammond C3 1952, Leslie 145
Hohner Clavinet D6 (2x)
Hohner Clavinet D6/E7 w/vintagevibe preamp
Korg MS-20
Korg Polysix
Mellotron M4000D mini
Moog Voyager
Nord Modular G2X
Nord Electro 5D
Nord Stage 73-key waterfall
Novation Supernova
Philicorda GM751
Roland FP4-f
Roland MKS-20 piano module
Viscount Intercontinental
Viscount KeyB Legend
Viscount KeyB Legend Live
Wurlitzer 200
Wurlitzer 200A
Yamaha CS80
Yamaha M1 upright piano
Guitars & Basses
Chadwick folding bass, carved top
Conklin Groove Tools, 7 string bass
Cort G260 Guitar
Danelectro Dano 63 bass
Epiphone Jack Casady hollowbody bass
ESP LTD Guitar (M-100FM)
Fender Precision Bass '68
Fender Precision Bass '94
Fender dreadnought acoustic guitar 70's
High-end handmade upright bass
Ibanez Gio, 5 string bass
Line 6 Variax 600 Guitar
Modulus Flea bass
Warwick Rockbass Fortress, 4 string bass
Bass amps
Eden WT-500 bass head
Eden 410 XLT bass cabinet
Fender Bassman Silverface '72, amp head
Fender Bassman, Silverface amp head
Fender Musicmaster silverface bass combo
Gallien Krueger 1x12" combo
Newtone Custom 4x12"
Guitar amps
Fender Blues Junior
Fender Blues Deluxe Tweed
Jet City 2x12" cabinet
Palmer PCAB112GBK, 1x12" cabinet
Peavey Bandit, combo
Vox AC-30, without reverb
Fender HotRod DeVille 2x10", without reverb